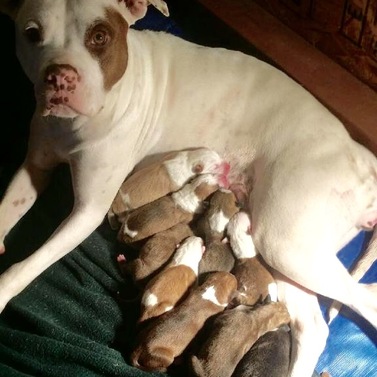 Our "Diamond in the Rough" Still Needs a Forever Home!
Diamond was found in October 2015 rummaging for food in a garbage bin at Jack in the Box. She was starving, bones showing, infested with fleas and worms, and had open wounds on her legs and face. She was taken in and it was suspected she could be pregnant. After a quick ultrasound we confirmed 3 pups and an early December due date. Her foster surmised differently though, and she was right...

On November 11th Diamond welcomed 9 puppies into this world. She was in her handmade wood whelping box with had blankets, towels, and fresh water. She had a heater and a heat lamp on her, an air filter in her room and her foster mom, cheering her on quietly. Due to the love and care of her foster, all 9 of her puppies survived and thrived. It breaks our hearts to wonder what may have happened to them had she not been found.

Since then, all 9 of her "Crown Jewel" puppies have been adopted, but Diamond is still looking for her forever home. Click here
to fill out an application for this sweet girl!
---
Watch Diamond's story:
---
Her Crown Jewel Puppies: