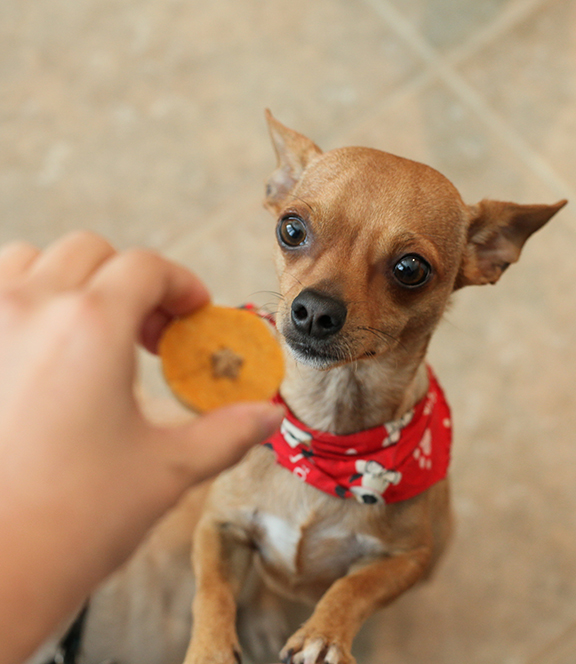 What little doggy rascal doesn't like peanut butter? Do you know of any?

To show our furry little friends how thankful we are for their unconditional love and companionship this Thanksgiving Holiday, let's make them some yummy homemade organic treats chock full of good stuff.

This recipe works best if you have a household full of dogs because it will make a large batch, lots to share with all their doggy buddies! (Approximately 75-100! Feel free to HALF the recipe.) They would also make great gifts. Put some in a little jar, add a ribbon and wha-la!

INGREDIENTS:
1/2 Cup Rolled Oats
2 cups Organic Coconut Flour
4 large Eggs
3 Tbsp. Organic Peanut Butter
2 Cups Water
1 Can Organic Pumpkin Purée
1 Banana, chopped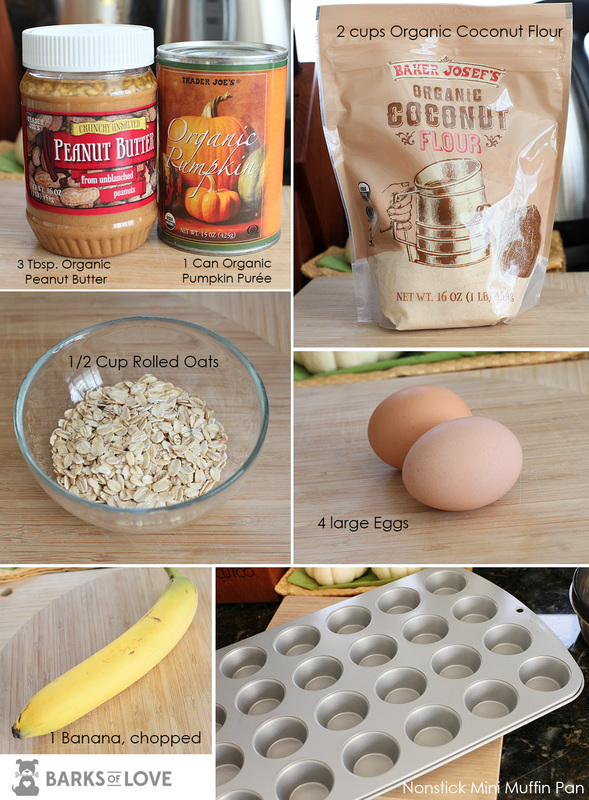 Preheat the oven to 350°F.

In a food chopper, grind the oats into a fine powder and mix with the Coconut Flour.
Transfer all the flour to a stand mixer.
Beat the eggs in a separate bowl and add it to the flour.
Set the stand mixer to mix at a low setting.
As it's mixing gently, add the remaining ingredients one by one until the dough is crumbly, sticky and soft.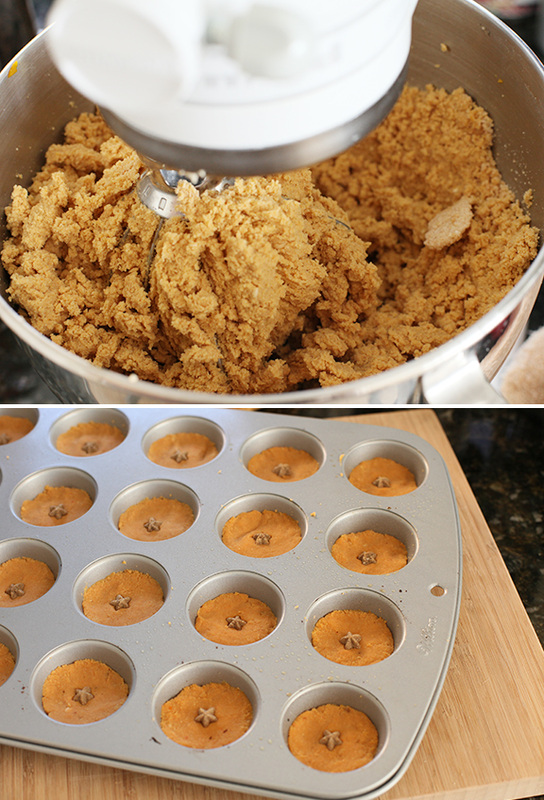 Using a small nonstick mini muffin pan to make the mini pies, roll a little ball of the dough to about ½" round and press it into the muffin pan. Do not overfill each muffin cavity, you want to fill it up at least half way. I added a little Star Treat on top of each pie to add a bit of decoration but you can leave just it as is if you like.

In a large separate baking sheet pan that the muffin pan can fit into, pour water into the sheet pan about half way up. Set the muffin pan on top of that and place into the oven and bake for 20-minutes. The water will help reduce cracking in the treats during baking because coconut flour is a very dry ingredient.
Bake for 30-minutes if you like crunchier treats, but note that they will begin to crack more.

Once the baking is done, remove the pan carefully from the oven. Set out and let cool before handling.

When they are cooled, store in an airtight container in the fridge. They should last about 2 weeks. Or you can also freeze them and defrost when ready to treat your pups to Thanksgiving.

Please note that if you have smaller dogs, break the treats apart before giving it to them. Especially if they are treat mongers that like to swallow before chewing!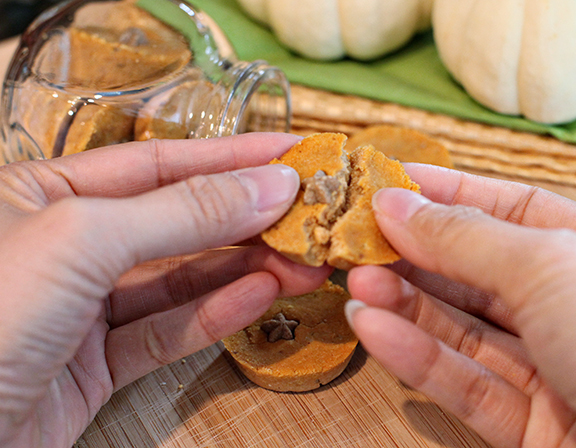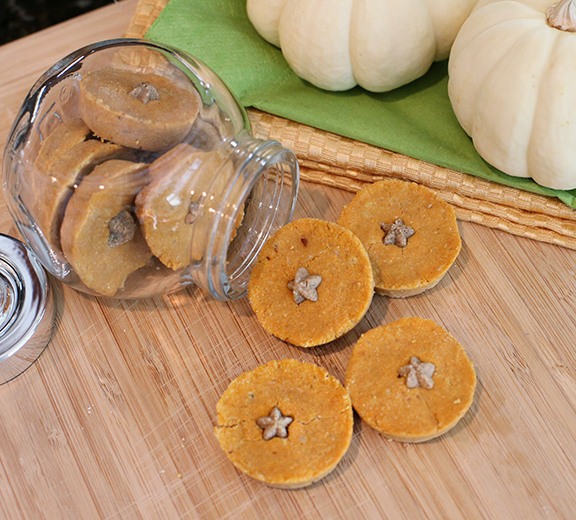 Here is my 10yo Vincent patiently waiting for his treat. His eyes all shiny in anticipation.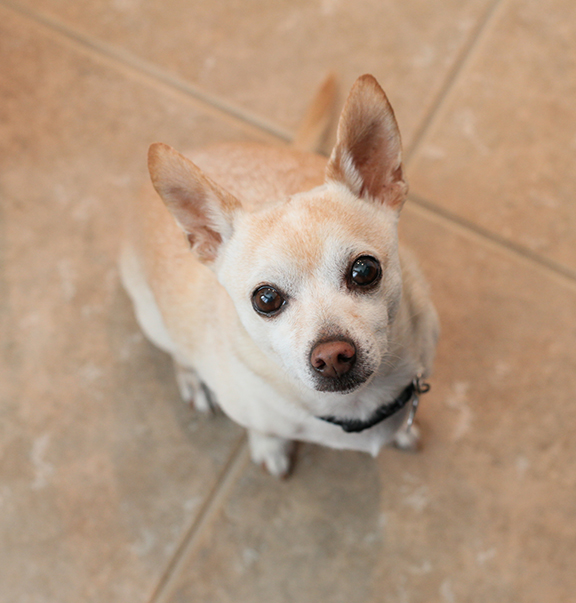 Here is Bebe also waiting quietly. But of course Loki photo bombs her and jumps in like the little thief he is!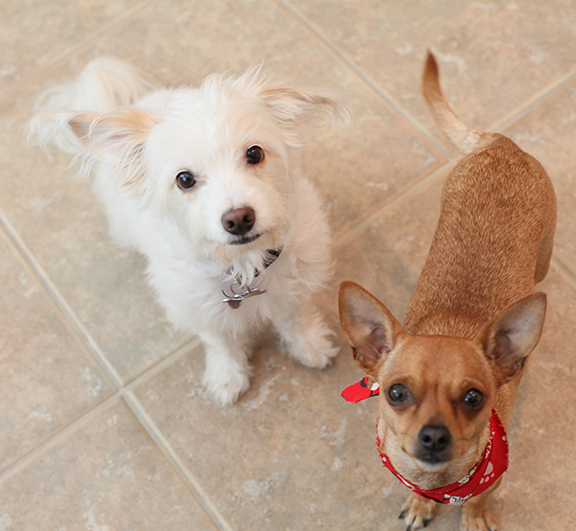 And last, our little Isabella who's eyeing the treats with glee. And Loki dancing and prancing for it like the trickster he is.