There is a new and effective way to find dogs ready for adoption near you! In case you are not familiar with Tinder, it is an application for mobile devices that aims to connect local singles for dating. This application is now being applied to pet adoption. The function is similar to the original Tinder concept, but with a new purpose. Each dog uploaded to the app has it's own actual profile and pictures.

These applications are becoming quite popular. In an effort to get the word out on some shelter dogs in NYC looking for loving forever homes, a dedicated no kill shelter called Social Tees is using the app to fix people up with their very own furry best mates, and the response is surprising. The app is designed to respond much in the same way as it would to a profile for a human.

A more accessible and less region specific app is
Barkbuddy
. BarkBuddy comes from Bark & Co., the company behind the monthly doggie goodie boxes at
BarkBox
as well as the
vets-on-demand operation called BarkCare
. The app today works across the U.S. and Canada, and sources its dog photos from PetFinder, a service that aggregates data about adoptable pets from shelters and other rescue organizations, as well as from Bark & Co.'s own network of around 2,500 shelters who are involved with BarkBox's
referral program
. In total, BarkBuddy currently lists around 300,000 dogs.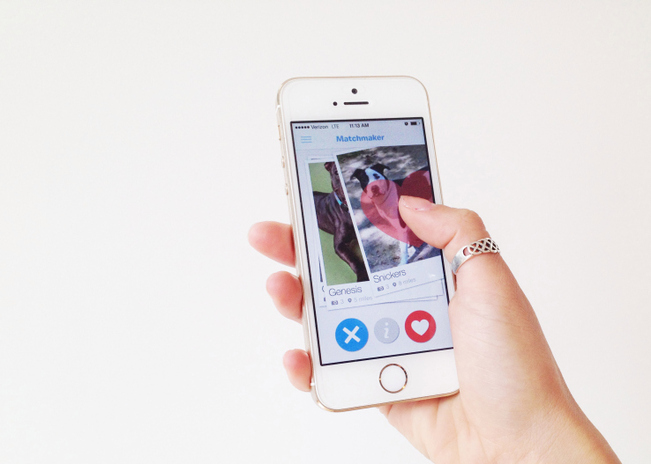 As on Tinder, you swipe the photos on the screen either left or right as a way of saying "yes" or "no," or you can tap the "X" or "heart" button at the bottom for the same effect. But in this case, you're not looking for potential dates or hookups, but rather choosing your favorite dogs from those located in nearby shelters.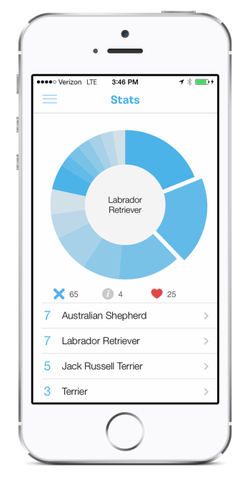 What's also nice about the app is that it lets you indicate, more specifically, what kind of dog you're looking for before you get started. You can filter for either male or female dogs, and use sliders to filter by age, activity level, and size. BarkBuddy then uses geolocation to find which dogs are available in your area's shelters.
You can also tap on the photos to read the dog's name and the description, as well as share the post to Facebook, or reach out to the shelter directly to arrange a visit. Dogs you like are saved to your Favorites in the app as well, and BarkBuddy then uses that information to start building out a profile of the type of dog you like.
The company says its overall goal here is to build products and provide technology that reaches new audiences and allows the good shelters to succeed. The Bark & Co. team has been playing around with the app internally since quietly launching it earlier this month, and is now ready to roll it out to a wider audience.
BarkBuddy is free to download on
iTunes
.
Via -
LifeWithDogs
and
TechCrunch