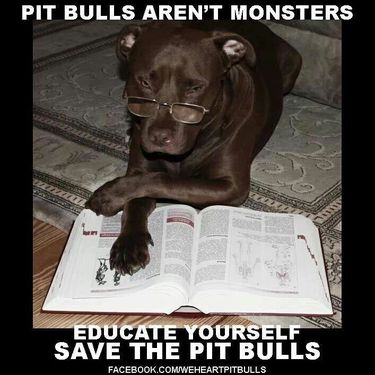 The Pit Bull Temperament

Dog breeds are characterized by certain behavioral traits. Each breed was developed to perform a specific job, whether it be hunting rabbits, retrieving downed birds, herding livestock or sitting on people's laps. When developing a breed, breeders select only those dogs who perform their job best to produce the next generation.

Physical abilities and behavior are both important facets of any breed. A well-bred dog should have both the physical attributes necessary to perform his job and the behavioral tendencies needed to learn it. It's not surprising that individuals of a specific breed tend to look and behave somewhat similarly. However, it's important to realize that even though a breed may be characterized by certain behaviors, individuals of the same breed can vary tremendously. Some dogs are courageous, while others are timid. Some dogs are tenacious, while others are easygoing. Some dogs are sociable, while others are aloof. Like people, all dogs have unique personalities.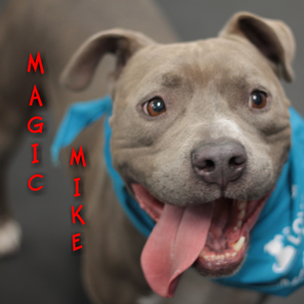 Should You Keep a Pit Bull Away from Other Dogs?

Pit bulls were genetically selected for their fighting ability. What does this mean? It doesn't mean that they can't be around other dogs, that they're unpredictably aggressive or that they will always fight to the death. These are all common myths about pit bulls. It does mean that they may be easily encouraged to fight with other dogs.

The best way to prevent the development of aggressive behavior toward other dogs is to focus on early socialization. To learn how to interact, play and communicate with members of their own species, dogs of all breeds need to be well socialized during puppyhood. If a puppy has many good experiences with other dogs, any future unpleasant experiences will have less of an impact on him.

Pit bull puppies may need even more socialization than other breeds. Numerous positive social experiences can teach a pit bull puppy to enjoy the company of other dogs. Frequent social interaction may also help pit bull puppies modify their natural play style, which is often more rough-and-tumble than that of other breeds.

Why the Bad Rap?

Sadly, the pit bull has acquired a reputation as an unpredictable and dangerous menace. His intimidating appearance has made him attractive to people looking for a macho status symbol, and this popularity has encouraged unscrupulous breeders to produce puppies without maintaining the pit bull's typical good nature with people. To make matters worse, irresponsible owners interested in presenting a tough image often encourage their pit bulls to behave aggressively. If a pit bull does bite, he's far more likely to inflict serious injuries than most other breeds, simply because of his size and strength. A pit bull bite is also far more likely to draw media attention. Many dogs of other breeds bite people, but these incidents almost always go unreported. They're just not exciting enough fodder for television and print.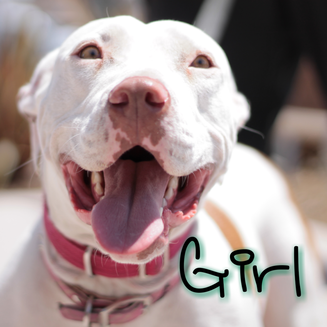 Despite this bad rap, a well-bred, well-socialized and well-trained pit bull is one of the most delightful, intelligent and gentle dogs imaginable. It is truly a shame that the media continues to portray such a warped image of this beautiful, loyal and affectionate breed.
Modern pit bulls can still be ambassadors for their breed. Some are registered therapy dogs and spend time visiting hospitals and nursing homes. Some work in search-and-rescue. Tahoe, Cheyenne and Dakota, three search-and-rescue pit bulls from Sacramento, California, worked tirelessly at the World Trade Center during the aftermath of 9/11.
Pit Bull Myths
There are numerous myths circulating about pit bulls, some invented by people who are afraid of the breed and others disseminated by well-meaning pit bull advocates. A few of the most common myths follow:
"Pit bulls have locking jaws!" This is patently false. There is nothing unique about the anatomy of pit bull jaws. They do not "lock." The pit bull's fighting style, like that of other terriers, usually involves grabbing and shaking. Perhaps because of their hunting and bull-baiting history, some pit bulls also have a tendency to grab and hold on with determination. This does not mean that they can't or won't let go of another dog once they bite. However, because they're powerful dogs, pit bulls do have strong jaw muscles. Like all dog parents, pit bull parents should know how to break up a dog fight. Please see our article on Breaking up a Dog Fight to learn more about this important topic.
"If a pit bull bites another dog, he's going to start biting people next." Research confirms that dog-aggressive dogs are no more likely to direct aggression toward people than dogs who aren't aggressive to other dogs. In fact, some of the best fighting dogs are the most trustworthy with people.
"All pit bulls are gentle angels who can be left unsupervised with dogs of any size, cats and other animals." Pit bulls aren't vicious monsters—but they are dogs who have been bred to fight with other dogs. While some pit bulls are indeed very easygoing, others should not be left alone with other dogs, cats or other pets. Pit bulls are strong, determined dogs. It might not be a pit bull who starts a disagreement, but he may be the one to finish it.
"The dog park is a great place to socialize pit bulls." This statement is sometimes true. Some pit bulls visit dog parks on a daily basis to frolic happily with many dog friends. For others, however, the dog park isn't an appropriate place to play. This raises quite a dilemma for some urban pit bull parents. Pit bulls are high-energy dogs and need lots of exercise, but some just aren't good candidates for the dog park. Because they're very muscular and easily excited, friendly pit bulls can sometimes overwhelm and even injure their playmates during rough games. And pit bulls may become aggressive more quickly when exposed to the hectic, high-octane energy of a dog park environment.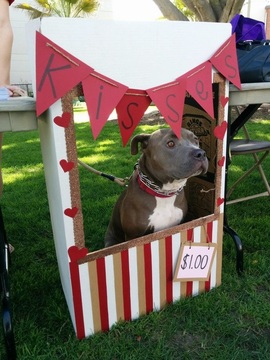 Is a Pit Bull Right for You?
Although many are self-appointed lap dogs, pit bulls, like most terriers, can be extremely tenacious and energetic, too. They're easily excited and, when in an agitated state, they may have little control over their behavior if they haven't been taught to inhibit their impulses. This trait has given pit bulls a reputation for being "mouthy"—they tend to bite harder in play than other breeds. They are also quite stoic and can be insensitive to pain. These characteristics make the pit bull a sturdy, enthusiastic working dog and a fun-loving companion, but they can also make this breed a handful for some pet parents. Pit bulls aren't for everyone.
Pit Bull Needs
All pets need parents who are dedicated to meeting their behavioral and medical needs. But pit bulls require a degree of special treatment. They're simply a lot of dog. Always ready to go, they work hard and they play hard. They're powerful chewers, they're energetic athletes, and their active minds need plenty of exercise, too. If you think a pit bull might be the right dog for you, read on to learn about what he'll need in life. Consider the following needs carefully before committing to pit bull ownership.
Thorough socialization. A young pit bull needs plenty of early socialization to people, dogs and other animals, beginning as young as seven weeks of age and continuing throughout adulthood. Providing daily socialization opportunities with new people and animals is most important during the sensitive developmental period that takes place between 7 and 16 weeks of age.
Gentle, consistent training. All pit bull puppies and adults need good training. Their pet parents should use methods based on positive reinforcement and consistent, fair rules. Although pit bulls are tough on the outside, they're often extremely sensitive dogs, and harsh training techniques are neither appropriate nor necessary. Puppy Kindergarten is crucial for young pit bulls. After puppyhood, your pit bull will need continued gentle guidance throughout his life. Mature pit bulls should master basic obedience skills at the very least. If possible, pit bull parents should progress through intermediate and advanced obedience as well. Earning an AKC Canine Good Citizen (CGC) certificate is an excellent way to ensure that your pit bull is a polite ambassador for his breed. Please follow this link to learn more about the CGC designation:http://www.akc.org/events/cgc/index.cfm To learn more about how to properly train your pit bull, please see our articles on Training Your Dog, Clicker Training Your Pet, Teaching Your Dog to Sit,Teaching Your Dog to Lie Down, Teaching Your Dog to Stay, Teaching Your Dog to "Leave It,"Teaching Your Dog Not to Jump Up on People, Teaching Your Dog to Come When Called, Teaching Your Dog Not to Pull on Leash, Teaching Your Dog to Settle, Teaching Your Dog to Wait at Doorsand Impulse Control Training and Games for Dogs.
Lots of exercise for the body. Because they're athletic, high-energy dogs, pit bulls need daily aerobic exercise. If you're a runner, an avid hiker, a Frisbee® enthusiast or a cyclist, a pit bull might be the ideal companion for you! Some pit bull parents arrange play dates with dogs who get along with theirs. Others run, cycle or use inline skates with their dogs. A rousing game of fetch or tug can also go a long way in tiring out a pit bull. For more information about ways to help your pit bull expend excess energy, please see our articles on Teaching Your Dog to Play Fetch, Teaching Your Dog to Play Tug-of-War and Exercise for Dogs.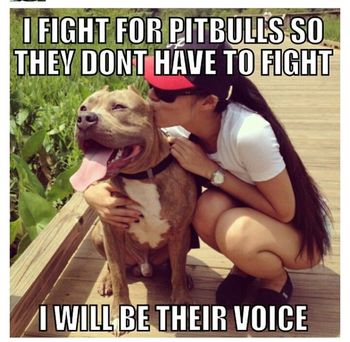 Lots of exercise for the brain. Mental workouts are also a must. They can be almost as tiring as physical exercise! You can stimulate your pit bull's mind by providing food-puzzle toys, things to chew and other types of enrichment. Giving your pit bull entertaining "jobs" to do can help keep him out of trouble when he's home alone, too. Please see our article on Enriching Your Dog's Lifeto learn more.
Neutering or spaying. Pit bulls should be neutered or spayed. In addition to the health and behavioral benefits for your dog, neutering or spaying will help reduce the number of unwanted pit bulls who end up in shelters all over the country.