It's summer time and the warm sun is luring us all to the beaches and pools. Most of us know that too much sun can cause skin cancer and so we take precautions. We are diligent in applying sunscreen and finding shade for ourselves. What we may not be aware of is that our dogs are at the same risk. We think that because our furry friend's have a full coat that they are safe. This is not true.

All dogs have certain areas, such as the nose, ear tips, pads of the feet, and belly areas where there is no hair to shield sensitive skin from the sun. Additionally, pooches with light-colored or thin coats are more susceptible to sun damage over their entire bodies. Not all varieties of dog skin cancer are caused by sun exposure, but sun damage to the skin can be a causative factor. Skin cancer is a very serious issue for dogs. Skin tumors are the most common tumors found in dogs.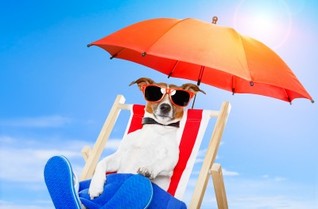 Cancer is the leading cause of death in dogs over the age of 10. But half of all cancers are curable if caught early. Here are some common question regarding skin cancer among dogs.

Q: How common is cancer in dogs, and what are some of the common cancers found in dogs?

A: It has gotten to be pretty common, especially in older dogs. Fifty percent of dogs over the age of 10 develop cancer at some point. We see malignant lymphoma, which is a tumor of the lymph nodes. We see mast cell tumors, which is a form of skin cancer. There are mammary gland tumors, or breast cancer, and soft tissue sarcomas. We also see a fair amount of bone cancer in dogs.

Q: What are some of the symptoms of cancer in dogs?

A: The warning signs of cancer in dogs are very similar to that in people. A lump or a bump, a wound that doesn't heal, any kind of swelling, enlarged lymph nodes, a lameness or swelling in the bone, abnormal bleeding. Those are all classic signs. But sometimes there are little or no signs, at least early on. So any time an animal isn't feeling well, or there's something abnormal or not quite right, the owner needs to bring it to the attention of their veterinarian.

Q: What's causing these high cancer rates in our dogs?

A: I think people are taking better and better care of their animals and pets are living longer and longer, so we're seeing more animals live to an age where they develop cancer. Years past, many dogs died from common illnesses or were hit by a car. But now we have vaccines and we keep our dogs indoors, so they're just around longer. There also seems to be a genetic component in some cancers, because we've seen where some breeds seem more prone to cancers than others.

Q: So some breeds are more prone to cancers? Are mixed-breed dogs less likely to get cancer?

A: Any time you have an inbred population, you don't know what else is being inherited along with the traits you want. People like golden retrievers because they look like golden retrievers. But what else is being passed through that line? Golden retrievers have a strong incidence of cancer. So do boxers, flat-coated retrievers, Bernese Mountain dogs. All of those breeds, and others, have specific cancers that we see. That's showing that there are probably specific genetic components to some cancers. But it's still a question of how much is genetics versus environmental factors.

Q. Can dogs also develop melanoma? A. Melanoma is more common than basal an squamous cell carcinoma (BCC and SCC) in dogs, and its location determines its severity. Melanomas of the haired skin (trunk and limbs) are usually noninvasive, and can be easily removed surgically. Melanomas on the toe or in the mouth are highly invasive, spread easily, and may be fatal.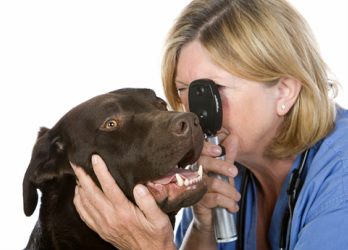 Unlike SCCs, however, melanomas are more common in dark-haired dogs, like black labs and cocker spaniels; heredity is believed to play a role in their development. Hereditary factors may also lead some dogs to develop ocular melanomas. Pedigree analysis of golden retrievers and Labrador retrievers revealed a form of ocular melanoma which is believed to arise in part from one or more genetic mutations. Treatment is usually removal of the eye.
Q. What can I do to protect my dog against these cancers?
A. Providing shade can help prevent sun-induced skin cancers. If your pup spends much time outdoors in a gated play area, for instance, have it fitted with a sunroof.
Sun-protective clothes
,
goggles
, and even
sunscreen
are available at many pet supply stores. Most dogs should tolerate sunscreen on the nose and ears. With melanoma, early intervention is important. Teach your dog early on to let you open its mouth, so that you can periodically look inside for anything unusual. Stinky breath could be a clue to a mouth tumor, so make sure your dog receives routine vet care, including dental exams. Identification of these melanoma early warning signs should help catch the cancer at an early stage. Melanoma and SCC on the toe are often associated with a broken toenail, so if your dog keeps licking a toe with a broken toenail, or the nail doesn't grow back right, have it checked out. When tumors are caught and treated early, dogs usually survive.
Article Credits -
pets.webmd.com
www.skincancer.org