There are two dire issues that are very close to my heart. First, is animal rights and their preservation. Second, is the environment and the preservation of our parks and forests. In many ways these two issues are interconnected. One major way the majority of us help the environment is through recycling. Recycling helps reduce waste, pollution, preserves natural resources, and saves energy. Recycling is the most convenient way to help the environment, and now in Turkey bottles are being turned into dog food.

Turkey is one of many countries where stray dogs are simply part of the city life. Istanbul, one of the largest cities in the world, has a population of 14 million people with an estimated 150,000 stray cats and dogs. These animals have become part of society. So much so that for centuries residents have left out food and water for them. Although complaints of dirt, disease, and aggressive behavior has driven local governments to gather dogs and relocate them to wooded areas in northeastern Istanbul.
Turkey's Ministry of Forestry and Water drafted a law that would send city dogs to "wildlife parks" on city outskirts. This would mean dogs would be placed in an environment where they would be required to fend for themselves to find food. Dogs could get so desperate and hungry that they may attack one another. The law was set aside after heavy opposition from animal rights organizations and activists.
Istanbul-based animal rights lawyer Ahmet Senpolat said, "The draft law does not address the problem at the core: animal smuggling and illegal pet shops. Animal smugglers only face a fine of a few hundred euros at worst, they continue to bring expensive pure-bred puppies and sell them to pet stores. People often buy the puppies from pet stores, and abandon them when they become too tough to handle."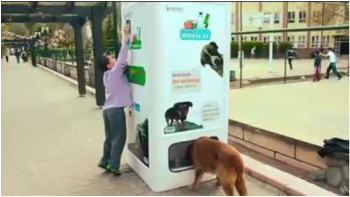 The stray problem will require heavier laws and restrictions to prevent animal smugglers. Until then many people of Istanbul want desperately to take care of there furry friends. There needs to be a temporary way to help keep strays fed. Something as easy as recycling a bottle. That is the influence behind the company
Pugedon's
new idea. The company aims to fuse street recycling bins with dog food dispensers. The bins have a container for people to pour the remaining water from their bottles before recycling them. As you recycle the bottle a fixed ratio of kibbles is dispensed into a bowl. The truly cool thing about this project is that the cost of the food is paid for with the recycled bottles.