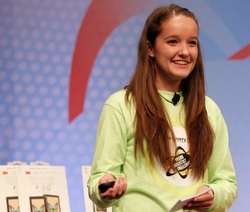 As advancements in technology become more and more embedded into our daily lives it is only a matter of time before we begin incorporating it into our pets lives. As a society we have become increasingly dependent on computers, tablets, and smartphones. These devices have boosted the communications between people ten fold in the last decade. Staying in touch with friends and family has never been easier. But what about with our pets? Remarkably, a 14 year old girl named Brooke Martin has taken the first step in that direction. She is the inventor of
iCPooch
, an Internet-enabled device that lets dog owners remotely video chat with their pets and deliver a treat to them, all with the touch of a smartphone, tablet or computer.
It all began 2 years ago with an eighth grade project that carried over to attending a
Startup Weekend
event. "Startup Weekends are 54-hour events where developers, designers, marketers, product managers and startup enthusiasts come together to share ideas, form teams, build products, and launch startups!" In the end she received the most votes out of her thirty-nine competitors, all of whom were adults. Through her success with Startup, Martin entered and won second place in the National Discovery Education 3M
Young Scientist Challenge
, which allowed her to spend the summer developing and testing her idea with a 3M scientist mentor.
After success in tinkering around with prototypes, Martin and her parents financed the remainder of the project through individual and groups investors along with a successful Kickstarter campaign that gained $30,000 in funds. In March 2014 Martin debuted iCPooch at Global Pet Expo where she was well
received
.
Martin is clearly a very unique and determined young girl, whose entrepreneurial spirt fueled her mission to launch her very own invention. iCPooch is not simply a good idea for a 14 year old, it is a worthy invention that could be quite useful to pet owners. What is more intriguing, especially for owners of rescued dogs, is that this invention was inspired by Martins own rescue, who suffered from anxiety issues when the family was away. However successful this product becomes it is truly an impressive feat for this young inventor and a glimpse at the future of pet based inventions.
iCPooch is set to be available for purchase starting this June.