When I was in sixth grade our entire class participated in a Young Inventors Fair for a school project. The objective was to invent anything out of materials that could found around the house. For me there was one task that I thought could use an easy fix. I used to dread washing my dog because she would only stand still for so long before running away. I needed to find a faster way to spray her down and apply soap. So I thought of a way to mix the two processes.

I used two materials for this invention. First, I cut a hole in the top a soft hair brush. Second, I attached a small PVC elbow pipe, with one end secured in the brush and the other screwed onto the hose. In theory the soap would be applied to the brush before turning the water on and they would work in unison. This was not exactly the case with my prototype. I was not able to get the water to shower outward and help lather the soap.

So why am I telling you about a failed invention that I made when I was in sixth grade? Well, because recently fifteen sixth graders in Jonesboro, Arkansas had built workable wheelchairs for injured or paralyzed dogs. The materials they used were PVC pipes, wheels, and straps.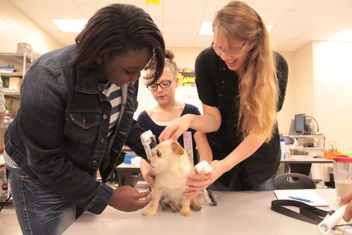 It all started when their teacher Georgia Summit's own dog, Lila, had to undergo surgery to the spine. The surgery cost $4,500 with an 80% chance of permanent paralysis. Summit was in desperation and searched for a solution.

Summit needed to find a way to get her sweet Lila the remedies she required. With little options she came up with a wonderful idea. Summit decided to take the case to her students. It became a project that would apply their math skills to practical use. The students were familiar with Lila's situation and eager to help.

"I had told the kids at school so they were already interested in learning about the disability and all of the engineering that goes into making a wheelchair," Summit said. "I wrote a grant for supplies with the intent to build and give away or for the small cost to build for others."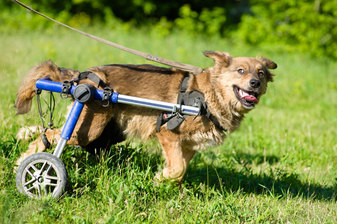 Along with donations, they received a $500 grant from Arkansas Community Foundation's Science Initiative for Middle Schools program. The students would measure individual dogs for customized chairs. Twelve-year-old Kaleb Anderson said, "I think it is a good way to help out animals that are disabled because it is unfair that they can't help themselves."

Happily, Lila made a favorable recovery and grew out of her need for the wheelchair. What these youths had been able to do for these dogs is remarkable. It is always nice to see young people target their ambition and compassion toward a good cause. Discovering a way make a difference on such a modest budget is inspiring. It makes you wonder what items sitting around your house could be turned into a useful tool. I also wonder if anyone has perfected the portable two in one dog washing system that I so crudely built as a child. I should really look in on that.