This week we are honored to share a story of one of our adopted dogs and her amazing rescuers, who provided a warm home and immeasurable love. Cristina Bernardini recalls for us her experience with Barks of Love and the dog that changed her life, Zero.

"Our story started 5 years ago when we first met Ashley. She had just pulled 3 dogs from the OC Shelter and offered me an opportunity to foster one of them. Her name was Betty Lou and after her first night with us my husband and I could not let her go.

A month after we adopted her we moved to the Bay Area and did absolutely everything with her. We went wine tasting, to Big Sur, Monterey, Half Moon Bay and Sacramento. She loved going shopping with me, and the best one of all: we were part of a pet parade where she wore a "butterfly" costume. We also did a lot of hiking by the bay, drove back and forth from SF to L.A many times – and she loved every minute of it. She was the perfect road trip companion, so well behaved. Betty Lou just wanted to please us and make us happy.

After a wonderful year where she also bonded with our niece, Ava, and almost became her best friend we moved back to L.A. That's when her first Autoimmune Hemolytic Anemia episode happened. We were lucky enough to have pet insurance and able to pay for her care. After this, her health was never 100% but her spirit was always very high. Once in L.A we decided to rescue other dogs, so Zero now had a doggie family whom she cared for immensely; we used to call her "Aunt Zero".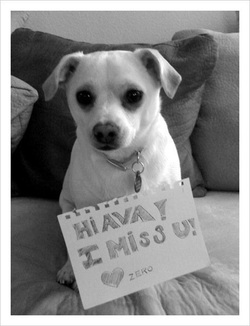 On the morning of April 12 I noticed she had very little energy, so I quickly rush her to the vet. What seemed like just a checkup, turned out to be a serious condition, so we had to leave her overnight – the Anemia was back. Every day I would go visit her 2 - 3 times a day. I would turn off the lights of the visit room and have her lay on top of me and just listen to music; the music we would always listen to every night before going to bed. I knew, in my heart, I was going to lose her. Our little girl was weak, but wagged her tail like crazy each time we visited her – she would find the energy to give me a million kisses trying to make me feel better because she knew how sad I was. Sadly, after 4 days we lost her and had to say goodbye to the love of our lives.

My husband and I keep on telling ourselves how lucky we are to have had her in our lives because of all the love she gave us and lessons she taught us. We learned to have a sense of responsibility towards another living creatures. She taught us there was no problem big enough that could not be forgotten with a kiss and a tail wag. There was neither a bad day at work nor a sad day because as soon as she would see something was bothering either one of us, she would come over and give us kisses or try to play with us.

If it wasn't for Ashley my husband and I would have never known what it is to love and be loved by such an amazing dog, and we could not thank her enough for doing what she does.

Until we meet again, Baby… you will always be in our hearts."